Need a restaurant recommendation for Dubai? Taste all styles of food in the city's bubbling culinary melting pot
There are somewhere around 13,000 restaurants in Dubai at the last count, – more per capita than in New York City, according to figures from the New York Times. And the sector is booming.
Only a few years ago, fine-dining was often confined to the big international hotels – which still host some of the Emirate's finest restaurants – but now more and more individual entrepreneurs are opening eateries, especially in the financial center of the DIFC, nicknamed by some in consequence as the Dubai International Food Court!
So whether you want to take the family for a beachside brunch, or dine on a rooftop terrace surrounded by city lights, there will be a restaurant in Dubai to suit everyone.
Here, the MCC team has put together a selection of top restaurants in Dubai.
If you're thinking of taking a trip, why not let MCC help? Call: +971 our

Bookings

service, or message a member of the team via WhatsApp on +966 533 633 607 for assistance with all your travel plans and restaurant bookings.

Did you know we also provide a personalised recommendations service? Get in touch to find out more*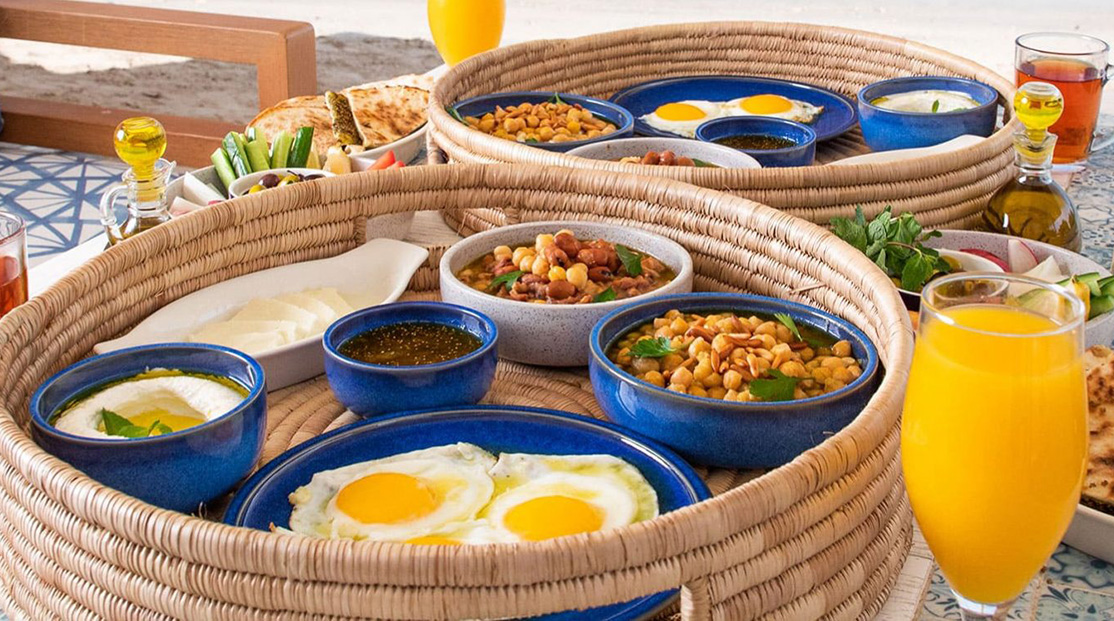 Ibn AlBahr
This popular Lebanese seafood eatery with a beachfront terrace is run by fishermen and has been awarded a well-deserved Michelin Bib Gourmand. Head to the fish counter to peruse the day's catch, and choose how you'd like it prepared.
Find out more
Call: +971 4 553 9575
Address: Club Vista Mare, Palm Jumeirah, Dubai
LPM Restaurant & Bar
Award-winning LPM offers a menu packed with classic French dishes and with its heart in the Mediterranean. Everything is prepared à la minute – not a heat lamp in sight – and there's a buzzy vibe that spirits diners from the Gate Village back to France.
Find out more
Call: +971 4 439 0505
Address: Gate Village No, 8, Dubai International Financial Center, Dubai
Il Borro Tuscan Bistro
Listed in the Michelin Guide, the ultra-chic Il Borro Tuscan Bistro is set on the Jumeirah Al Naseem resort's Turtle Lagoon. Whether you sit on the terrace or in the smart dining room you'll enjoy top-notch food and service.
Find out more
Call: +971 4 275 2555
Address: 906 Jumeirah St, Umm Suqeim, Dubai
Scalini
Lovers of Italian food will enjoy this charming restaurant with its sunken terrace and cozy indoor seating. With lush foliage outdoors, the terrace is a great spot for trying the classic dishes on the menu.
Find out more
Call: +971 4 349 0068
Address: Restaurant Village, Four Seasons Resort Dubai at Jumeirah Beach
Zuma
With a listing in the Michelin Guide, the Dubai outpost of this worldwide Japanese brand is set over three floors of achingly stylish decor. High-quality ingredients are used in consistently excellent dishes, and there are several sushi counters to add to the choice.
Find out more
Call: +971 4 425 5660
Address: Gate Village 06, Podium Level, Al Mustaqbal St, Dubai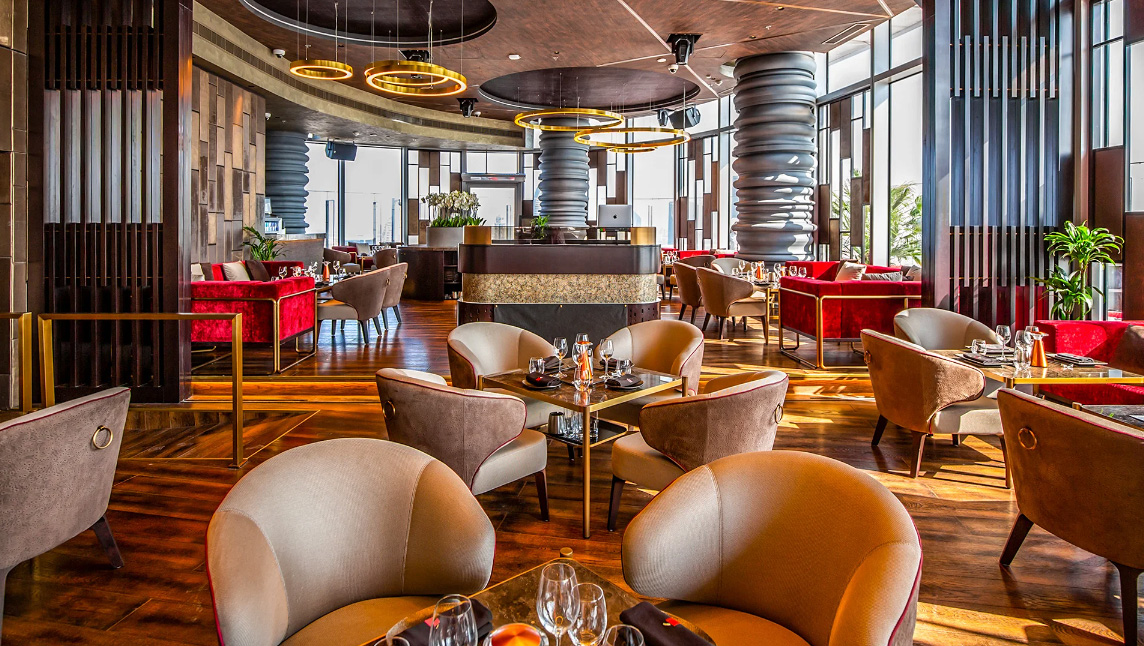 Cé La Vi
High up on the 57th floor of the Marina Bay Sands hotel, Cé La Vi offers rooftop dining with great city skyline views and a choice of a rooftop bar, pool deck and a smart restaurant serving pan-Asian dishes.Popular for Sunday brunch.
Find out more
Call: +971 4 582 6111
Address: Level 54, Address Sky View Hotel, Sheikh Mohammed bin Rashid Blvd, Tower 2 PO Box 251869
Mimi Kakushi
Listed in the Michelin Guide, this popular Japanese restaurant aims to capture the spirit of 1920s Osaka in decor and atmosphere, and offers a buzzy atmosphere as well as plenty of spots for privacy. The menu features classic dishes with a modern twist.
Find out more
Call: +971 4 379 4811
Address: Four Seasons Resort, 23 A St, Jumeirah 2, Dubai
Miss Lily's
This buzzing outpost of a Caribbean brand with branches in New York and Jamaica, specializes in a contemporary approach to classic island cooking, drawing from the many different roots and traditions of Jamaican.
Find out more
Call: +971 4 356 2900
Address: Sheikh Zayed Road, 5th Floor, Sheraton Grand Hotel, Dubai
3 Fils
Listed in the Michelin Guide, and the Middle East and North Africa list for the World's Best 50 Restaurants, relaxed and welcoming 3 Fils has an open kitchen and a stripped-back interior, with a terrace overlooking Jumeirah Fishing Harbour. The menu is pan-Asian with a bias towards Japan and includes small plates for sharing.
Find out more
Call: +971 56 273 0030
Address: Shop 02, Jumeirah Fishing Harbour 1, Al Urouba St, Jumeirah Dubai
Basko
A chic, contemporary restaurant with a foliage-filled terrace and city views, Basko serves a modern Mediterranean menu with imaginative cocktails. Popular for brunches and business lunches.
Find out more
Call: +971 4 582 4242
Address: Ground Floor, Basko, Al A'amal St, Business Bay, Dubai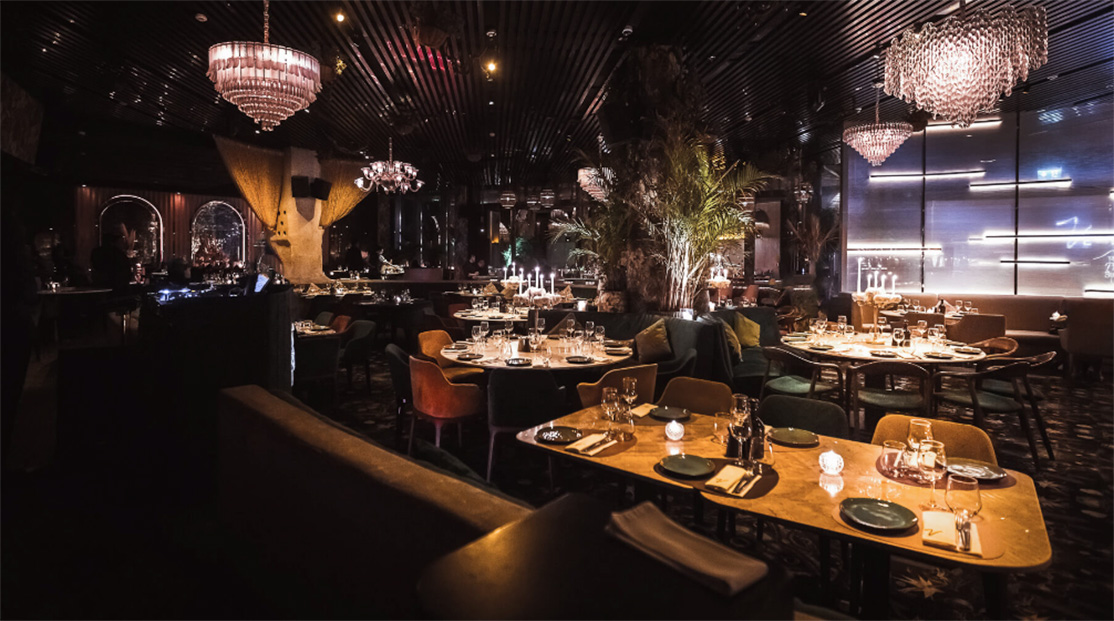 Verde
Inspired by Verde Paris and St Tropez, Verde Dubai is the Yeeels Group's first Verde venture outside France. Set in the Four Seasons Resort Hotel on Jumeirah Beach, it offers a lively, French, party-style menu with an open kitchen and a buzzy atmosphere.
Find out more
Call: +971 4 333 8025
Address: Four Seasons Resort Hotel, Jumeirah Beach, Restaurant Village, PO Box 72377 Dubai
Bagatelle
This elegant, baroque-style fine-dining restaurant offers a French-Mediterranean menu of classic and imaginative dishes with many of them intended for sharing with family and friends.
Find out more
Call: +971 4 354 5035
Address: The Fairmont Dubai, First floor, Sheikh Zayed Road, 97555 Dubai
L'Atelier de Joël Robuchon
With a name like Robuchon, it's unsurprising that this upscale restaurant from the brand of the late top chef is a popular feature in the DIFC and listed in the Michelin Guide. Desserts are a particular strength, and there is a seven-course tasting menu.
Find out more
Call: +971 4 297 7729
Address: Gate Village 11/Podium level, Al Boursa Street (valet service), DIFC, Dubai
Netsu
This sophisticated Japanese steakhouse from top chef Ross Shonhan is listed in the Michelin Guide and offers the traditional Japanese technique of warayakiya – straw fire cooking – amid stunning interiors. The open kitchen takes center stage.
Find out more
Call: +971 4 777 2232
Address: Mandarin Oriental Hotel, Jumeirah Beach Road, Jumeirah 1, PO Box 62092, Dubai
Myrra
Myrra by Opa takes guests on a culinary trip to the Greek and Spanish islands. Set at Club Vista Mare, with access to the beach, it offers an indoor and outdoor experience with an atmosphere inspired by the Mediterranean.
Find out more
Call: +971 56 646 5623
Address: Club Vista Mare, Palm Jumeirah, Dubai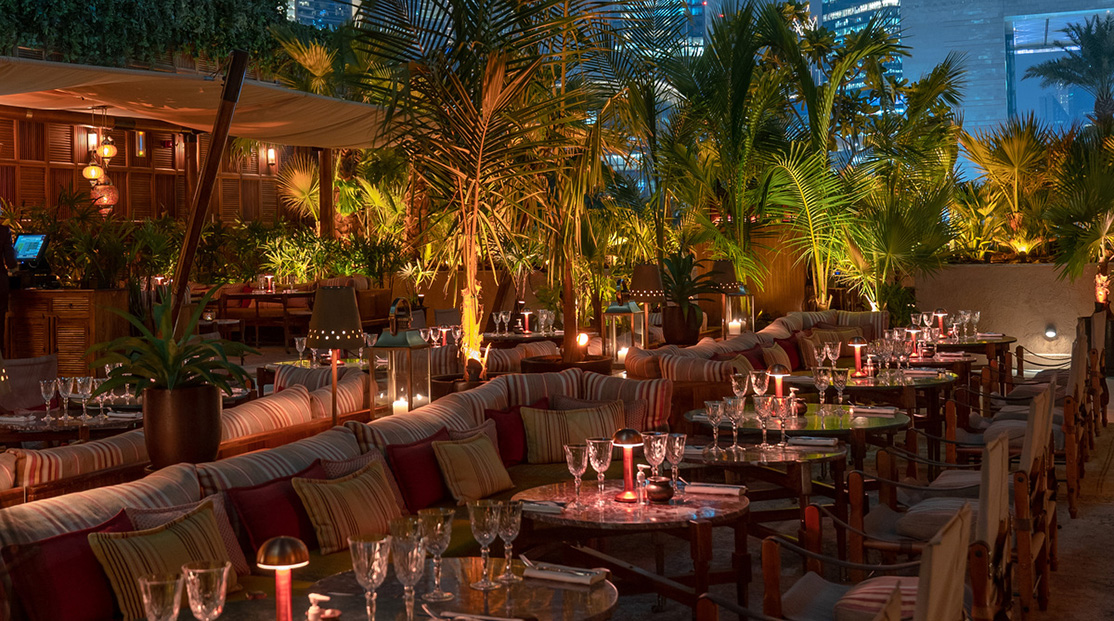 Ninive
With a Bib Gourmand from the Michelin Guide, upscale Ninive offers top-notch Middle-Eastern cuisine in a city-center setting but with a foliage-lined stunning terrace ablaze with twinkling lights and offering great views of the DIFC skyline.
Find out more
Call: +971 4 326 6105
Address: Emirates Towers Hotel, Sheikh Zayed Rd
Flamingo Room by Tashas
Located on Jumeriah Al Naseem's Turtle Lagoon, Flamingo Room by Tashas provides a smart-casual dining experience with an Italian-inspired menu and a shop selling high-end African gifts.
Find out more
Call: +971 4 244 7278
Address: Jumeirah Al Naseem, Madinat Jumeirah, Dubai 75157
Carine
Carine offers French Mediterranean-inspired dishes on the first floor of the Emirates Golf Club with a terrace overlooking the greens and the city skyline. The large, light and airy spaces offer a less crowded experience than in some city restaurants.
Find out more
Call: +971 4 417 9885
Address: 17/2, Al Naseem street Emirates Golf Club, Al Thanyah 3, Hadaeq Mohammed Bin Rashid, Dubai
Shimmers
This casual beachside restaurant at the five-star Jumeirah Mina A'Salam hotel offers a Greek and Mediterranean menu in a particularly photogenic setting.
Find out more
Call: +971 800 323232
Address: Beach, Jumeirah Mina A'Salam
Piatti By The Beach
Situated in the luxurious Raffles The Palm Dubai, Piatti by the Beach offers a smart but casual dining experience designed to transport guests to the scenic shores of the Italian Amalfi Coast.
Find out more
Call: +971 4 248 8889
Address: Raffles the Palm, West Crescent Palm, Jumeirah, Dubai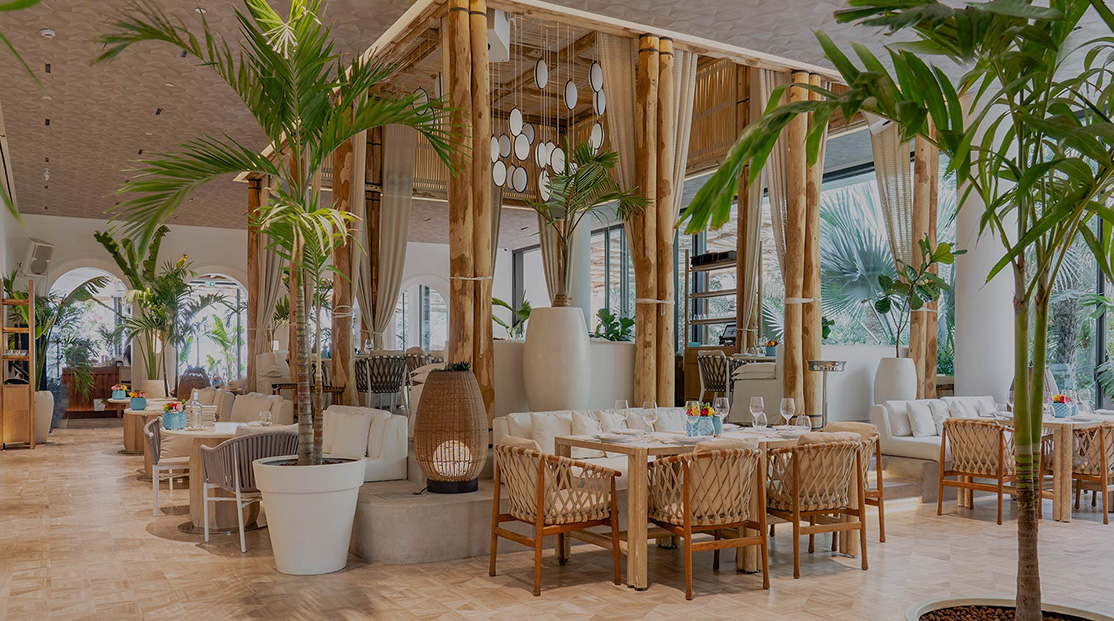 Nammos
This branch of an international chain offers authentic Mediterranean menus in a chic setting at the Four Seasons Resort. The decor is fresh and light, and menus include local seafood and a caviar menu.
Find out more
Call: +971 58 121 0000
Address: Four Seasons Resort, Jumeirah 2, 00000 Dubai
Avli by Tashas
With a listing in the Michelin Guide, Avli – named after the rustic courtyards of the Mediterranean – offers a Greek menu in a smart contemporary setting in the DIFC, emulating a cool, vaulted building.
Find out more
Call: +971 4 359 0008
Address: Unit C01, Gate Village Building 9, DIFC, Dubai
Opa
This traditional-style Greek restaurant – complete with plate-smashing and a Greek dancing show – is a lively haven of Greek food in the Fairmont Dubai.
Find out more
Call: +971 4 357 0557
Address: 1st Level, Fairmont Dubai, Sheikh Zayed Road, Trade Center Area, Dubai
Café Society
Serving an international menu from breakfast through to evening dinner, Café Society offers a luxurious, smart, sophisticated art-deco-themed venue situated in the Dubai Marina.
Find out more
Call: +971 4 318 3755
Address: Tamani Marina Hotel, King Salman Bin Abdul Aziz Al Saud Street, Dubai Marina
Gaia Dubaï
Listed in the Michelin Guide, this stylish award-winning Greek-Mediterranean restaurant is decorated in the style of a white-walled taverna and offers Mediterranean classics that include plenty of fresh fish, caught locally and priced by the kilo for diners.
Find out more
Call: +971 424 142 42
Address: Dubai International Financial Centre, Gate Village Number 4, Dubai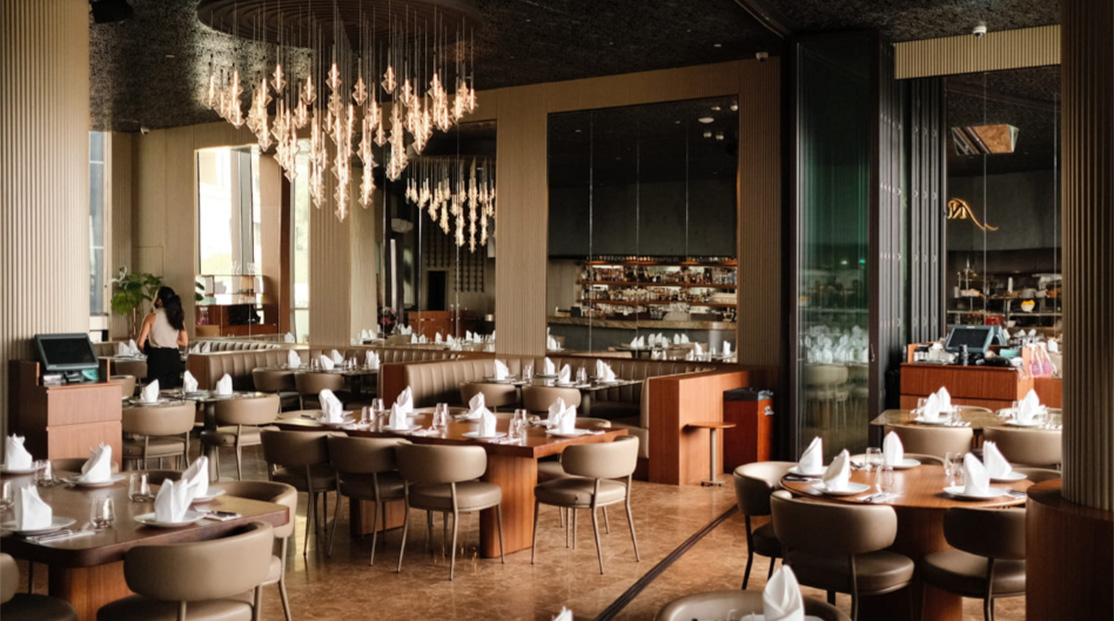 Nusr-Et
The famous steakhouse brand from Turkey is the creation of Nusret Gökçe, a butcher and meat specialist also behind the Salt-Bae chain. Meat is, unsurprisingly, the main focus of the menu, and this particular offshoot is set in the luxurious Four Seasons Resort.
Find out more
Call: +971 4 407 4100
Address: Jumeirah Beach Road, Jumeirah 2, Dubai, United Arab Emirates
Clap
Listed in the Michelin Guide, Japanese restaurant Clap is located on the 9th floor of its building, with private lifts to take customers up to its dining area. The rooftop terrace attached to the dining room has great city views, and the menu ranges from sushi through to mains such as miso cod.
Find out more
Call: +971 4 569 3820
Address: Dubai International Financial Centre, Gate Village Building 11, level 9, Dubai
The Arts Club
The Arts Club is an offshoot of the historic London private members' club of the same name and is spread over five floors, with restaurants on every floor.
Find out more
Call: +971 4 3 506 506
Address: ICD Brookfield Place, DIFC, Dubai
Amazónico
Combining tropical and Latin American dishes, Amazónico's menus reflect the diverse cuisines of the Amazon, from seafood to grilled meats. Opened originally in Madrid, the Dubai offshoot – with a listing in the Michelin Guide – has three rainforest-themed floors, with an open-kitchen restaurant, cocktail bar and stunning roof terrace.
Find out more
Call: +971 4 571 3999
Address: DIFC Pavilion, Dubai
Shanghai Me
Shanghai Me's menus reflect the rich culinary tradition of East Asia. Its bamboo and banana tree-filled terrace represents the green jungles of Asia, while the luxurious lounge and private dining table pays tribute to the parties of a golden age.
Find out more
Call: +971 4 564 0505
Address: DIFC, Gate Village Building 11, Dubai
The Theater Dubai
This live entertainment experience involves a dinner show, featuring vocalists, musicians, dancers and aerialists , together with an international-style dinner menu, including caviar.
Find out more
Call: +971 4 222 2268
Address: The Fairmont, Sheikh Zayed Road, Dubai
Kaftan
Serving authentic Turkish food from breakfast onwards, Kaftan has indoor and outdoor seating with good views, and is comfortably near the Burj al Arab and within walking distance of the Jumeirah Beach hotel. Excellent for brunch.
Find out more
Call: +9714 338 9688
Address: Umm Suqeim 3, Jumeirah Beach Road Villa #861, Dubai 72820
*additional fees may apply
DON'T MISS
- 6 hot London restaurant openings
- Best sushi restaurants in Riyadh